How to use WAP Portal
Fancy sending SMS to group contacts in your address book even if you are not in front of the PC? With Mobility2u, you can do it in few simple steps! Just make sure you are a registered member of Mobility2u service and you have the contacts details inserted into the address book. Once the group of contacts is saved in the address book, follow these simple steps to send SMS through our WAP portal.
Go to Mobility2u WAP Portal : http://mobility2u.isentric.com/wap on your mobile phone.
User login
Step 1: Enter your username and password to verify you are an authorized and valid user.
Step 2: Click "Login" to log in.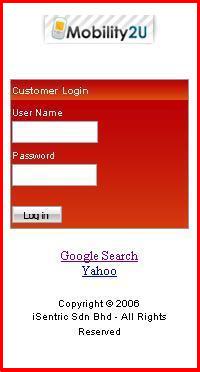 Picture 1: User Login
WAP Portal Main Page
Once login, the username and the number of credits left in the account will be shown on the main page. Click on "Group Broadcast" to proceed to send SMS.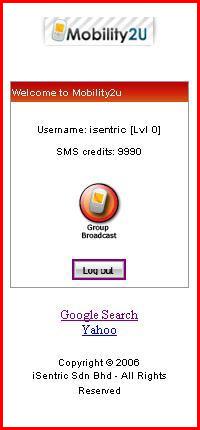 Picture 2: WAP Portal Main Page
Send SMS Messages
Follow these 5 easy steps to send SMS to your group contacts. First, do ensure that the group contacts has been inserted into the address book.
Step 1: Select the group of contacts to send SMS. New groups can be inserted by logging into Mobility2u website.
Step 2: Select the sender masking. Up to 5 sender masking can be created for each main account.
Step 3: Type in the message content. Please do ensure that your message do not exceed 160 characters in English or 64 Chinese characters.
Step 4: Select the language of the message, either English or Chinese.
Step 5: Click on the "Preview" button to proceed to send the SMS. The "Reset" button will reset all the fields to the preset mode.


Picture 3: Send SMS
Message Preview
User can preview recipients, sender masking and the message content. If you wish to change the message content or other fields, click on the "Back" icon. Otherwise, click "Send" to send the SMS.



Picture 4: Message Preview
Message Confirmation
Once the message has been succesfully sent, a confirmation page will be shown. SMS credits will be deducted accorsing to the number of recipients. The delivery report can be checked by logging on to Mobility2u website.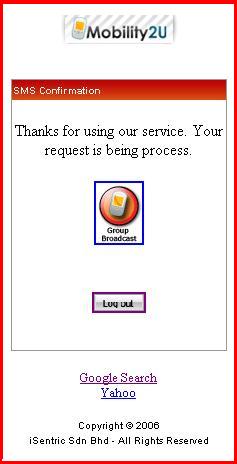 Picture 5: Message Confirmation