Mobile Marketing - MMS (Multimedia Messaging Service)
• What are the advantages of using MMS Marketing for the business?
: MMS has the ability to deliver a short advertisement and rich content in the form of audio clip, image, animation or video clip up to 300kb in file size direct to consumer's mobile phone.
: Media content embedded within the MMS message and is played back instantly, without the need to link to an external web or WAP site.
: MMS advertising therefore gives access to a huge proportion of the ever growing mobile demographic.
• Why use Mobility2U MMS Marketing?
: Mobility2U MMS Marketing enables Mobile Number Portability (MNP) checking to ensure MMS sending is delivered even customer changed from one mobile operator to another.
: It is a Bulk MMS (one-way MMS) which able to deliver large volumes of MMS and gives you the ability to deliver immediate message direct to phones.
: MMS Marketing Testing Session. Ensure all the contents on message are working properly before the first blast out.
: MMS verification and validation. In-house designer team to verify MMS contents quality to ensure user experience receiving the MMS.
: Device Testing Deliverables. MMS Marketing has been fully tested and worked properly on most the devices such as iPhone, Blackberry, Sony Ericsson, Samsung and Nokia.
• MMS Marketing Sample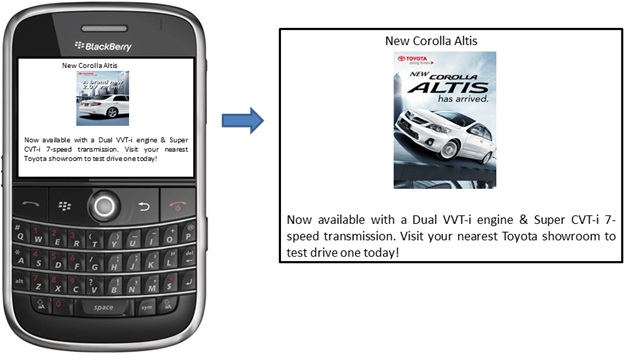 • MMS credit packages as below :
| | | | |
| --- | --- | --- | --- |
| Package | No of MMS Credits | Price per MMS | Package Price |
| Basic Package | 20,000 | RM0.50 | RM 10,000 |
| Business Package | 50,000 | RM0.40 | RM 20,000 |
| Corporate Package | 100,000 | RM0.30 | RM 30,000 |
Note: If you are interested to buy large amount of MMS credits, please contact us at
info@isentric.com to get better MMS rates.
• Check out the functionalities of every broadcasting method in Mobile Marketing
• Web MMS Broadcast
Web MMS Broadcast enables you to send MMS through our web portal. You can send a simple message in 4 simple steps or customized your message to include name or other variables in your message and send message to 2,000 recipients at a go.